Look people, this is quite simple. Take a look at some of the CRAP being offered on Ebay. Look closely at the other guys parts kits and look at the ones you can be a proud owner of by purchasing off this web sight. Yes, my price is higher however for the extra few dollars you are going to spend this is what you will be getting. These kits are UN ISSUED! They retain 99% of their original finish, it would be 100% if they had not been de milled! I want you to look closely at the photos on this page. The photos were taken of a RANDOM kit, NOT a cherry kit and the others are all junk... Dont believe me, well look at the photo of 3 kits together! Ever seen an UN ISSUED bolt? Bet you wont find one of those on Ebay or any other place for that matter. These photos ARE NOT touched up, the photos represent the QUALITY of the kits I sell. When these are gone they are GONE......... DO NOT wish you had not bought the junk kit... Get your order in and get a UN ISSUED parts kit. You have seen the rest.... NOW BUY THE BEST!
The kits that we sell WILL NOT come to you in a bag and all covered in cosmoline like the below photo! The photo below was sent in to me by a person who purchased a kit off Gun Broker and paid $101.00 for PLUS $12.00 shipping! They "THOUGHT" they got a great deal until he happened to come accross this sight and saw the condition of our kits.
ALL KITS as of 07-13-02 ARE SOLD! We have one final shipment due for arrival sometime durring the month of AUGUST. 20 kits...... That will be the END of these un issued kits available. If you want to purchase one Please e mail me and I will put you on a waiting list. You will be contacted upon their arrival. DONT wait for the last minute, I expect these last 20 to go very quickly.
This is a kit that a person sent me a photo of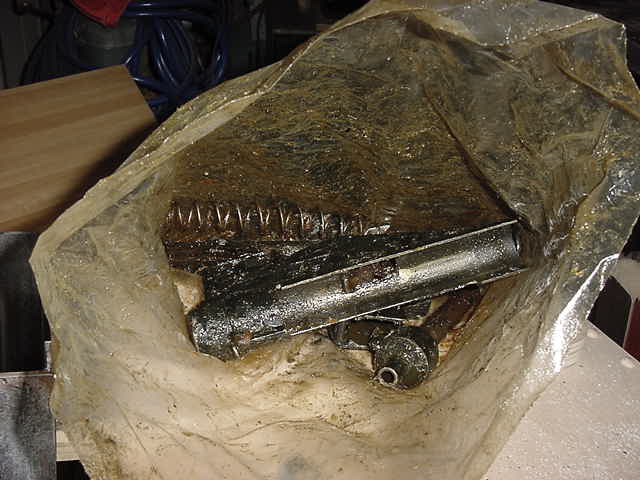 They paid $100.00 for it from Gun Broker!
I wanted to show you what "the other guys" were selling... I spent $29.00 on this kit from a well known company and even spent an additional $20.00 to get a "HAND PICK" from them. I really DID NOT want the cosmoline all over my table so I wiped it off to show you a compairisson photo of what is out there and what we offer.
Top kit is the ones we sell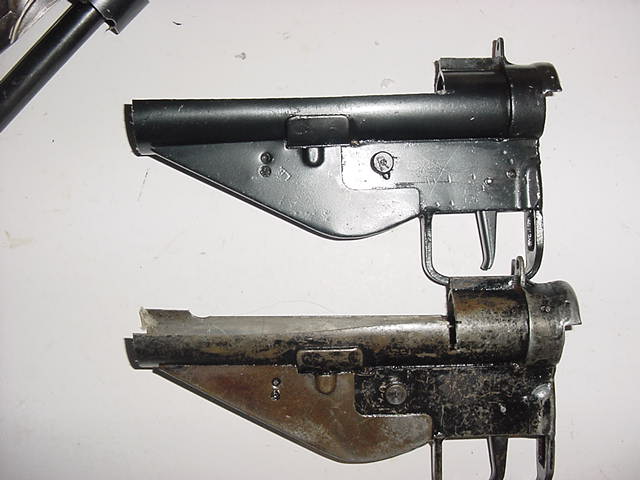 Bottom kit is the other guys "Hand Pick" $45.00 kit
The photo below is EXACTLY what you are going to get from us. The kits DO NOT have 500 layers of cosmoline on them! They do however have a light coat of oil, similar to a 3 in 1 oil that can easily be wiped off with a rag.
Sten MKIII Parts kit
This is the AVERAGE condition of the sets available
Ask the other guys to see a photo of the INSIDE of the cut off receiver tube.... I am willing to bet that they DO NOT retain the finish that these kits have! Look at the sears in the photos, they are NOT all mushroomed up and they are MILLED SEARS! Most of the kits out there lately have had the stamped sears.
2 of our kits side by side......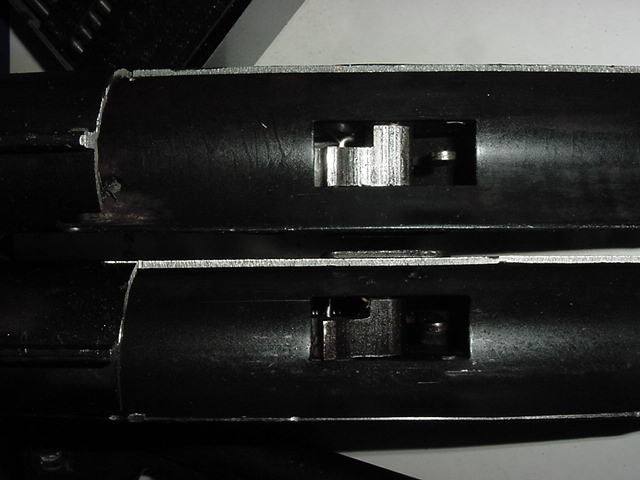 ever seen the inside of a parts kit this clean?
If you want QUALITY and you want what I consider better than ANY "hand pick" out on the market, you have come to the right place. Once these kits are gone... They are GONE! There are many rumors out on the net that the MKIII kits are getting exausted, I do not know if this is true or not, but I do know that these can no longer be imported. I know because we tried to get more of these kits sent in and they were NOT allowed.
Still not impressed?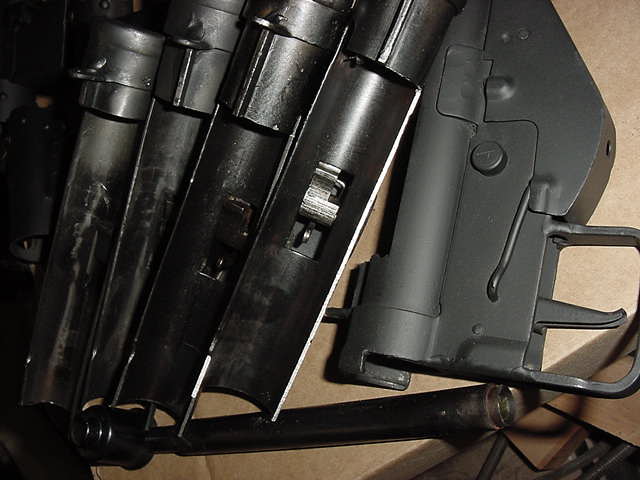 How about 4 parts kits side by side......
Trigger housing
This is a close up of the housing... See the quality!
Another view of the MKIII parts kits
Included with purchase will be 1 32 round magazine as a "GIFT" The magazine WILL NOT be un issued!